Re: Lennox Longboarders Club March Round Report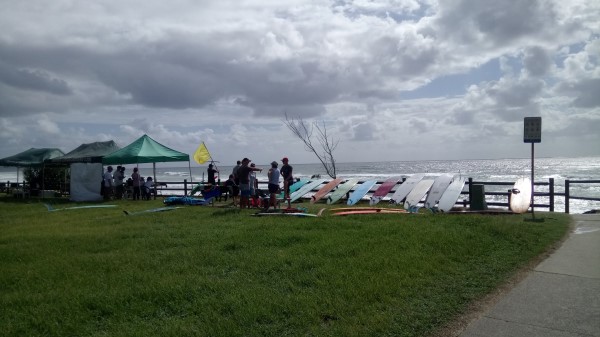 2020 for the club has finally Launched.
The March Round last Sunday March 8th was on, the club hit the water at Lennox Main .A high Tide dropping & off shore winds early.  2 – 4ft waves. 
Some 36 surfed . The Second sign-on for the club. Welcome to the Lennox crew in 2020 new members, Mia Francis, Champion Family, Gary Crawley & Welcome back Darin & Tracy Nobbs,  
James Foster Mowed the Strip around the tents a First loves mowing……
We trialed a computer comp Judging System (From a App called Surf Comp) with the usual paper form. Put together by our new President / Club Captain Rob Rye & the club treasurer Andrew Smith . Some teething problems, but the results follow so round 1 had some success. 
To the Surfing , Some outstanding longboarding skills to young Tasman Cahill his round 1 was full of maneuvers, to a new member Mia Francis some quality logging moves displayed, finishing 1st in the seconds.
And winning the firsts is a close final field was Arron Smith, using every bit of surface on those wave faces with both slashing moves & nose riding..
Thanks always goes to Will Petrie for BBQ duties.
And to Our Water Lens Man Craig Leete, Some special water Photos in difficult conditions,  thanks.
Next Club Round & Club Sign-on No 3 is Sunday April 5th as the 2nd Sunday is EASTER. 
1sts. 1. Arron Smith. 2. Jackson Cochrane. 3. Will Petrie. 4. Darin Nobbs. 5. Brendan Cahill. 6. Eleanor Robertson.
2nds. 1. Mia Francis. 2. Martin Fox. 3. Jemma Osborn. 4. Tasman Cahill. 5. Andrew Smith. 6. Tobias Champion (1st round only)
3rds. 1. Jake Ryan. 2. Craig Leete. 3, James Foster. 4. Greg Gover. 5. Andrew Thomas. 6. Terry Kay.
4ths. 1. Gary Alford. 2. Rob Rye. 3. Gary Crawley. 4. Ella Champion. 5. Celine Walsh. 6. Jim Baker (Ist Round Only)
5ths. 1. Veronica Silver. 2. Tim Champion. 3. Brodie Fox. 4. Tomini (1st round only) 5. Toby Ryan (1st Round Only) 6. Adele Purbrick (1st Round Only)
6ths. 1. Emily Simmonds. 2. Fiona Duncan. 3. Grant Ryan . 4. Liz Petterson (1st Round Only). 5. Kate Ashdown (Ist Round Only).
Photos Attached Helen for your use.
Cheers In Surfing. You all Stay Safe