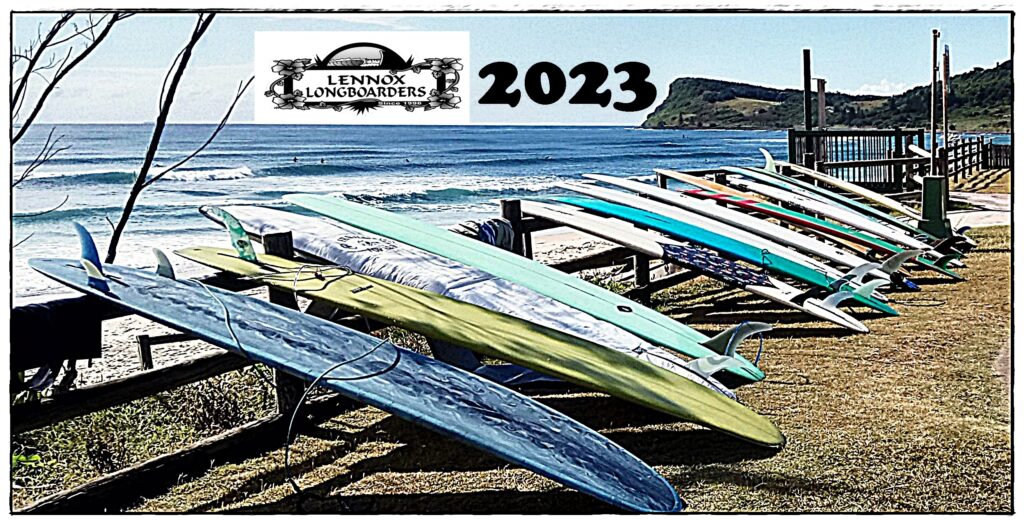 May 14th 2023 Lennox Longboarders Club Round, Results & Voucher Winners
Comp Report –
The day started off overcast but with no rain and with a sign up of 22 competitors we ran the first heat just after 8.00 on a dropping tide, in clean off shore conditions, and a waist to head high swell.
All the crew were very enthusiastic even in the changeable weather with light showers then sunshine but even at dead low tide there was some super surfing, on very
surfable waves and with lots of fun.
A big cook up of egg and bacon sangas by Pres Will set the mood for a really good club day with great surfing particularly in the Firsts final with Aaron Smith taking it out by only 0.02 from Jackson Cochrane … the last word heard was from John Eddy saying what a fun morning it was, both in and out of the water.
The swell had picked up as the tide turned and with the off shore and the fairly glassy conditions staying with us to the last heat. Stoked!!
Voucher Winners- Thanks to our Club Monthly Sponsors
Rip Curl Ballina Grant Ryan
Lennox Gelato Andrew Thomas
Lennox Head Surf Eleanor Mc Credie
Lennox Pizza & Pasta Jackson Cochrane
Lennox Hotel Eleanor Robertson
Results
Firsts 1st Aaron Smith.. 2nd Jackson Cochrane .. 3rd Will Petrie .. 4th Greg Gover
Seconds 1st Taylor Hession .. 2nd John Eddie .. 3rd James Foster .. 4th Eleanor McCreadie
Thirds 1st Toby Ryan .. 2nd Terry Kay .. 3rd Adele Purbrick** .. 4th Eleanor Robertson**
Fourths 1st Gary Crawley .. 2nd Andrew Thomas .. 3rd Tully Smith .. 4th Grant Ryan**
Fifths & Sixths 1st Jemma Osmond .. 2nd Stu James .. 3rd Liv Cooke .. 4th Veronica Silver
5th Fiona Duncan .. 6th Tasman Foster*
** Surfed one round so only half points
Attached Pics from the Firsts Final Ist Aaron Smith, 2nd Jackson Cochrane 3rd Will Petrie (Past File Pictures)
Note – Next Club Round June Sunday 16th…
Report Compiled by George Leslie.
Thankyou
Cheers (Boothy)
Wayne Booth
Club Secretary